Google has changed over the years dramatically from just displaying ten results per page to have shopping, images, maps and videos on their search results.
Today's blog post will take you through the search results that appear on Google search.
Google's over the Years
Today is Google's 14th birthday after being formed by Larry Page and Sergey Brin in 1998. They have developed over the years to be one of the biggest companies in the World. To read more on the history of Google please view here.
As you can see in the image below Google searches have gone from strength to strength in the last six years making them the ideal place to get information from.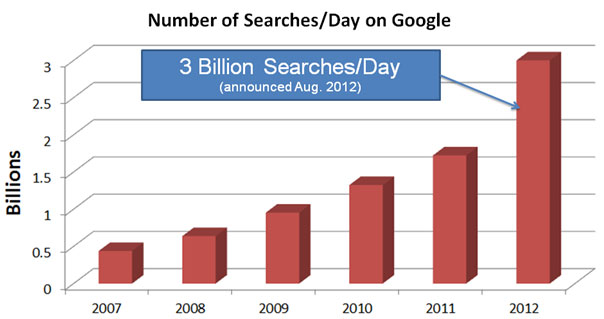 Google Search
Google search is split into two sections with an organic section and a paid section. You will see in the image below that the paid search highlighted in red dominates the top of Google and down the right hand side.
To be positioned in the paid search you have to have a Google Adwords campaign where you can create adverts that can display on the search results when certain keywords are searched. If your ad gets clicked then you pay a fee that you have bidden to get to the position on the search.
To appear on the organic/natural search this is determined by the relevancy, authority and trust of the site for that search query. More information on this can be found on our SEO website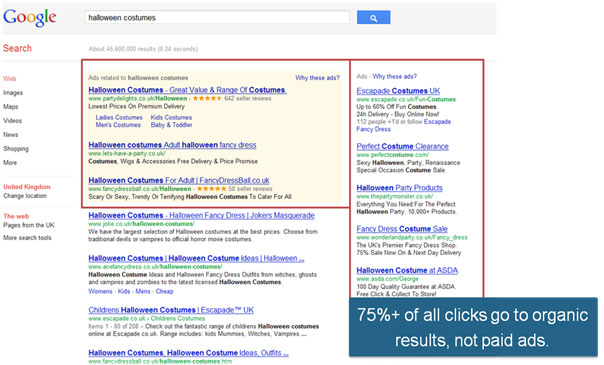 Google Local
Google has incorporated maps into their search results and this helps local businesses appear for local searches and is helpful to the user if they require to source there item from a local supplier or business. You can create this for your business by visiting Google Places.
You will see how this looks in the image below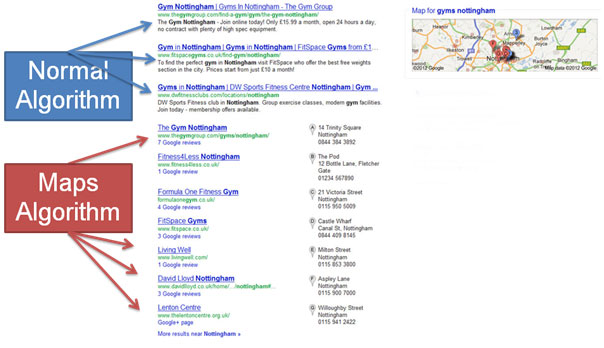 Google Shopping
When searching for a product like a piece of clothing Google shows the top three related searches from the shopping section in the organic search. The information that is shown is an image of the product, name of the product, price and website as you can see below. You can set this up so your products can be seen by setting up an rss feed of your products and going to Google Merchant Centre.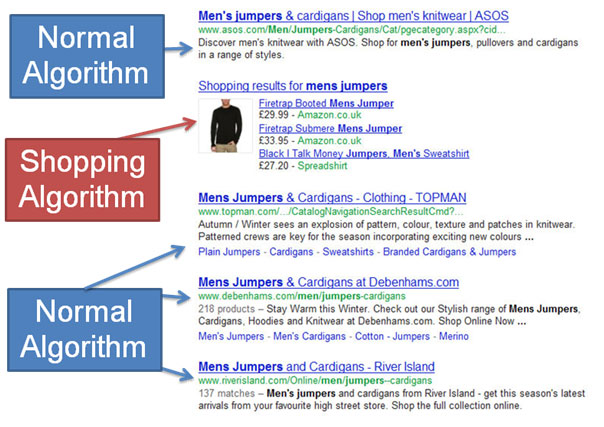 Google Videos
Google has incorporated YouTube videos into the search results and this can help the user be able to interact with their search query. To get your videos shown on the search results you can submit a video sitemap to Google to index you video from your site. Please see how a video looks like on a search query below.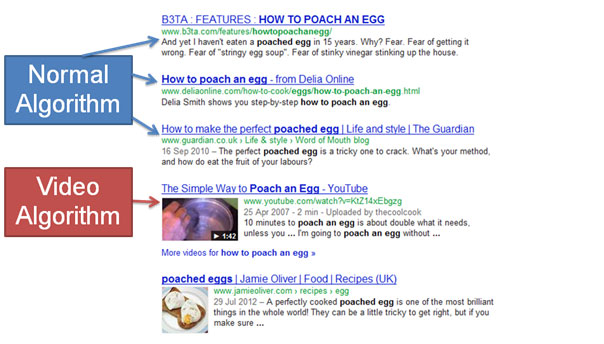 I hope you have found part two helpful and if you do require any marketing services for your website then please visit our website and get in touch with us.